Professional Local Moving Service In Texas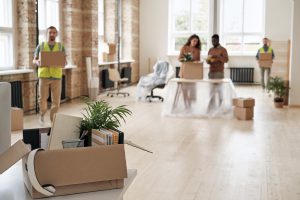 Any business looking to grow and develop will eventually need to upgrade its office space. If you are completing a local move in Texas, you should consider hiring a local moving service to help with the full process.
Professional Local Moving Service
Moving your business into a new office or other place of business can be an exciting time. However, there is also a lot of work that goes into the process. When you are going to move into a new office, you will have to move all your office furniture and electronic equipment, ensure employee belongings are packed, and ensure all items are moved from the old office into a new one. All of this work will also have to be done while trying to manage your business.
When you are moving into a new place of business in Texas, a professional local moving service can help with this. This will help reduce the time and stress on your business and will allow you to focus on other aspects of moving into a new office.
Commercial Moving Service in Texas
As you are looking to move into a new office in Texas, hiring commercial moving services is often a great option. The commercial movers will start by providing you with a consultation and creating a moving plan. This will create a detailed itinerary that all people can follow and keep the process organized.
The movers will also be able to pack up all office furniture and electronic equipment, including onsite servers. All necessary equipment will be packaged in a way to ensure it remains safe and protected throughout the move. The movers can then move all items into the moving truck and eventually your new place of business.
Why Choose ArmorStar?
Choosing a commercial moving service in Texas is always a big choice. When you are looking for a new moving service here, it would be a great idea to call AmorStar, which continues to be a leading commercial moving service. When you hire AmorStar, you will be working with professionals that have a combined 75 years of experience.
When you work with AmorStar, the team can offer a fully detailed move plan that will provide a clear timeline for all employees and business owners. This plan will be designed to minimize any disruption to your business and can often be completed outside of normal business hours. Beyond providing you with all packaging and moving services, they can also offer temporary storage solutions when necessary.